There are a total of 2 inspections required by the Japanese government in order to obtain a phytosanitary certificate.
soil test – testing the soil or other growing media for any pests.
plant test – testing the plant itself for any pests.
In order to prevent foreign pests from entering your country which may result to destruction of crops and other valuable natural resources, we follow the proper procedures of importing your plants into your country.
This process may take anywhere from 1 to 3 weeks.
The chart below is a representation of the phytosanitary procedure schedule.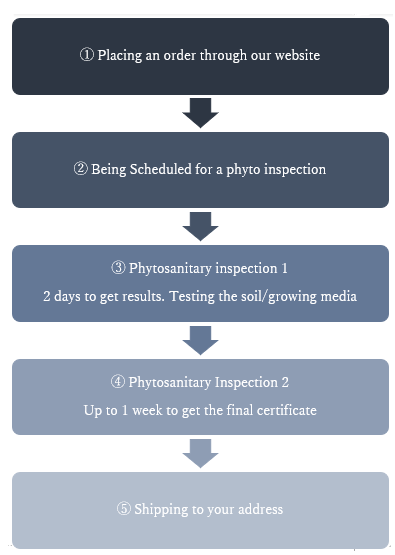 Monster Monstera handles all other necessary fees and certificates necessary WITHIN JAPAN.
Any certificates or fees outside Japan are the buyer's responsibility.
If you have questions about importing plants into your country or what certificates are needed by your customs, kindly contact your office of Agriculture.